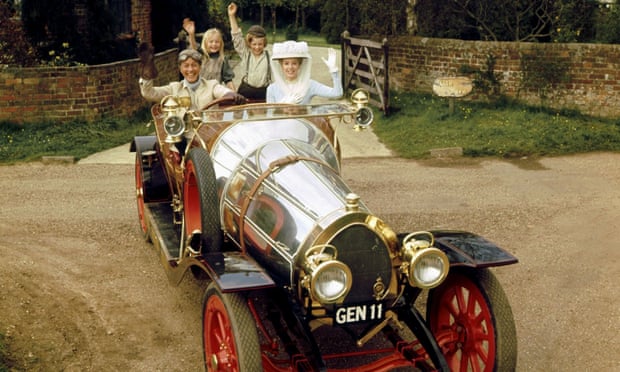 Chitty Chitty Bang Bang (1968) has to be my all-time favorite 'Disney' film without even being Disney in the first place. Produced by EON, the production company responsible for bringing us Ian Fleming's Bond to the silver screen, this is a very loose adaptation of another of the British naval-intelligence officer's creations.
The story was first told in his book Chitty-Chitty-Bang-Bang: The Magical Car (1964). Even though the book was a children's book, I would definitely not classify this bizarre film version as strictly for children, even if the screenplay was given the (darkly) child-oriented Roald Dahl treatment.
Chitty opens with a race car montage, during a fictional British Grand Prix in 1907.  We see the car at its prime, winning a number of consecutive races, until it all unexpectedly comes to a halt in a blaze of fire.
Fast forwarding a few years, Chitty is an old, burnt up shell of a race-car at a scrap yard which is saved by Caractacus Potts, a crackpot inventor, at the insistence of his children who have become very close to the car, on an almost spiritual level, one could say. Even though Caractacus is clearly a genius, like most geniuses, he has spent the best years of his life waiting for his big break and is too poor to buy the car from the scrap yard owner, charismatically played by Desmond Llewelyn, Q himself).
In order to be able to do so, he attempts to offer his hairdressing talents in a funfair, an idea which horribly backfires but still manages to produce a memorable song and dance sequence (the tune to be revived decades later by Stewie and Brian with 'A Bag of Weed'). He also tries, and fails, to put his new invention/delicacy on the market – the famous Toot-Sweet, which you can eat or whistle.
Once the Potts have the car in their possession, Caractacus gives it a totally unbelievable makeover and manages to turn a rusting piece of junk into the most beautiful vehicle known to man. Post-Make-Over Chitty has to be the epitome of beautiful cars. One has to suspend disbelief a tad here and really try to accept that yes, Potts is a genius and this really is the same machine.
As Mel Brooks would say, "If you got it, flaunt it," and two minutes after the transformation, the Potts family (sans Granpa who opts to go to Alaska via his garden tool-shed), goes on a family picnic with Truly Scrumptious, a millionaire's daughter who quickly grows fond of the Potts family and partakes in all the ensuing adventures. All this happens in the film's first act. I won't go into detail on the film's subsequent two acts, for the benefit of those who are yet to watch it. With a little bit of effort and reading between the lines, one will clearly see that Chitty Chitty Bang Bang is definitely not a children's film, but rather one which can signify very different things for audiences with different levels of maturity.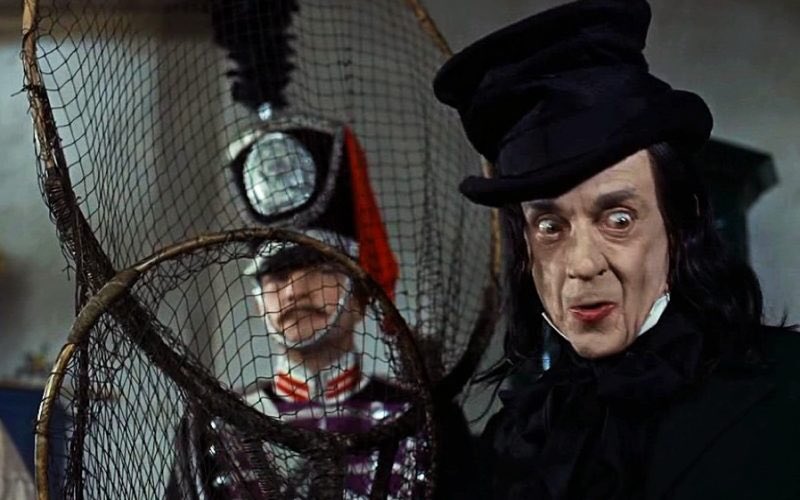 Having watched it countless times as a kid, I was always sickly terrified of the child catcher during his big scene. I mean, he was Chitty Chitty Bang Bang for me, and I suspect, also for a lot of other children.
Back then, I also never got a number of things I do today, and rather than realising that this film is essentially an all out (albeit tongue-in-cheek) attack on government and institutions, I thought of it simply as another Herbie. Of course, apart from the principal characters both being cars, Herbie and Chitty have nothing in common. Herbie is very interactive, mischievous and clearly experiences human emotions. Chitty is perhaps the least involved character in her film, hardly exhibiting any signs of consciousness at all.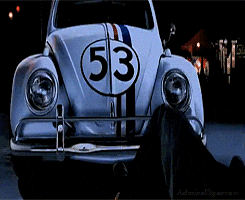 So what's so special about a film which seems to be about a car but is not actually about the car? A number of things.
a) Dick Van Dyke. His ability to portray the wholesome family man who is also a talented singer and dancer was at its peak. Incidentally my favourite scene from the film is his impression of a singing and dancing wind-up rag doll.
b) The musical sequences in general. The film boasts about ten solid (if a bit too complex for a children's film) songs, by the brilliant Sherman Brothers. Hushabye Mountain stood the test of time and remains one of the best loved lullabies today. Listen to Stacey Kent's haunting version here – HUSHABYE MOUNTAIN
c) The satire. The film is clearly chock-full of satire on society, dictatorship and democracy, government and freedom of expression, all of which goes over most children's heads, (mine included) but which definitely leaves its mark on more insightful audiences for a long time.

d) It is one a beautiful, colourful, imaginative art piece. The sinister child catcher, the silly King who cries during his birthday party at the thought of getting more toys "I have hundreds of dolls!", the wacky inventor with the breakfast making machine that was blatantly ripped off in Flubber's (1998) opening scenes, Grandpa Potts singing "It's a Posh Posh travelling life," while partially submerged under water in his hut which is also a laboratory and resembles an Edwardian portable toilet…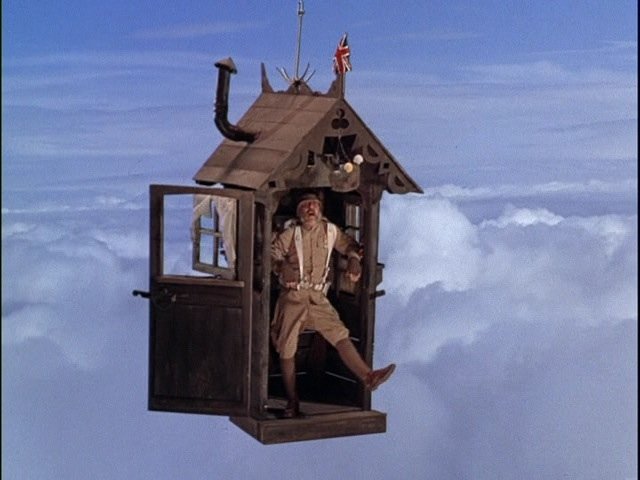 So yes – most of the time, it's whimsical. It's far fetched and today, the special effects definitely feel dated. If you're going to go comparing Chitty to the latest Star Wars, don't bother. But if there are still any traces of the child in you, someone who fears seedy adults and vegetables alike, loves sweets and picnics, and believes that a little bit of Sherman magic could do wonders with the worn fabric of society's structure, Chitty Chitty Bang Bang is the film for you.
I'll leave you with a picture of little me with Chitty when she visited back in '90 🙂
Mikiel (apparently dressed as a toot-sweet) and Chitty Chitty Bang Bang in Freedom Square, Valletta
Have you watched Chitty Chitty Bang Bang? What did you think of it? Has this review affected your opinion of it in any way? Let me know in the comments below!
Click here
to buy Chitty Chitty Bang Bang and add it to your personal collection. You will also be helping this website in the process, so thank you!